50 Cent Reacts as Father of Floyd Mayweather's Grandson NBA YoungBoy Joins the Likes of Eminem, Drake, Doja Cat, & Others on the Elites List
The world-famous rapper and America's favorite, 50 Cent has reacted to social media, as the most watched rap artists on YouTube for the 2022 list has been released.  50 Cent stands at number ten on the list even after not releasing anything this year. On the list, Oscar award winner hip hop artist Eminem, but the fans have another favourite. NBA Youngboy stood in the 4th position on the list, and not many fans know there was a bitter relationship between Youngboy and Floyd Mayweather .  Mayweather, NBA Youngboy, and 50 Cent, the three share a very tragic past. But how are they linked?
ADVERTISEMENT
Article continues below this ad
ADVERTISEMENT
Article continues below this ad
Issues with NBA Youngboy and Floyd Mayweather
NBA or Never Broke Again Youngboy is a young rap artist and has a very high cult following. But earlier he had become a father to Mayweather's daughter Iyanna Mayweather's child, who gave birth at a very young age. At that time Mayweather welcomed the decision of his daughter and NBA Youngboy.
But after some time, a tragic incident took place in NBA Youngboy's house. Mayweather's daughter was charged with stabbing a 35-year-old woman in an NBA Youngboy's house. She was sentenced to 6 years in prison and made it to the news soon after that. Although, she was later discharged on bond. This might be the reason there was an issue between Mayweather and NBA Youngboy. But what is the issue between 50 Cent and Mayweather?
DIVE DEEPER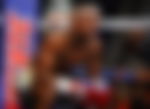 50 Cent and Floyd Mayweather had a very different relation
50 cent and Floyd Mayweather had a different kind of chemistry. Previously they used to share a good bond but somehow it turned into a beef later. However, previously 50 Cent was a good friend of Mayweather and was very supportive towards each other. On different occasions, people saw them together, and 50 Cent was also seen at the ring sometimes cheering for Mayweather. But the whole equation got changed after Mayweather was put into jail.
ADVERTISEMENT
Article continues below this ad
After Mayweather's release, 50 Cent accused him of owing money. Although the issue was solved later and they became friends again.
Watch this story: Floyd Mayweather earns $300 Million  
But everything is settled between them. 50 cent might be working on a new album and Mayweather has retired from professional boxing being undefeated with a 50-0 stat, and NBA Youngboy, is also working on his new album. What do you think of their feuds in the past? Let us know in the comments.
ADVERTISEMENT
Article continues below this ad