Your 2020 Leading Film SAG Awards Nominating Guide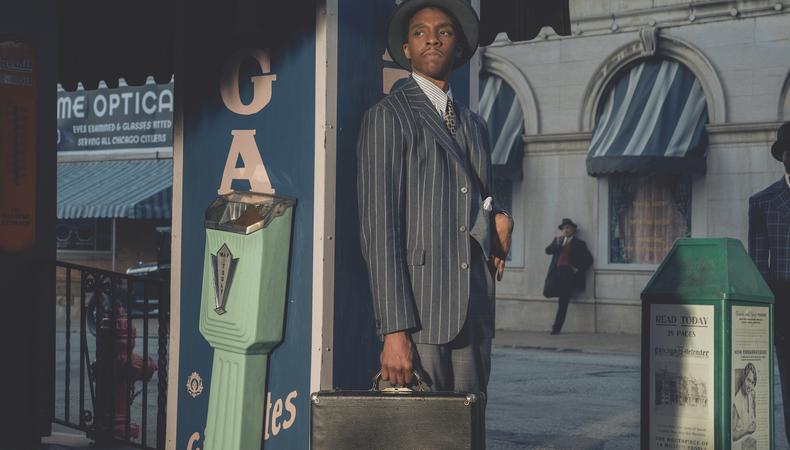 Photo Source: "Ma Rainey's Black Bottom": David Lee/Netflix
The list of leading film performances below doubles as a guide for SAG Awards voters who are considering the best of 2020 and a primer for working artists who are looking for definitions of great acting. They're also proof that although the movie industry is undergoing a period of considerable uncertainty, there's still no shortage of entertaining, poignant, and enlightening films to watch on screens big and small.
OUTSTANDING PERFORMANCE BY A FEMALE ACTOR IN A LEADING ROLE
Amy Adams, "Hillbilly Elegy"
Playing chain-smoking backwoods heroin addict Bev, Adams swivels from raw vulnerability to shaking ferocity on a dime in this Netflix original from director Ron Howard. She brings her character's narcissism and keen desperation to the screen as only she can. It's like the actor is digging into every nook and cranny of her own soul to produce this aching portrait of someone who has been robbed by circumstance.
Radha Blank, "The Forty-Year-Old Version"
Feature directorial debuts don't get more thrilling than Blank's semi-autobiographical, painfully hilarious cinematic outing, filmed in gorgeous black and white. As struggling New York City playwright Radha, aka burgeoning rapper RadhaMUS Prime, the writer-director-producer backs up her incisive depiction of art versus commerce with comedic bona fides. Give her awards just for the final freestyle—and mic drop—that gives this film its triumphant conclusion.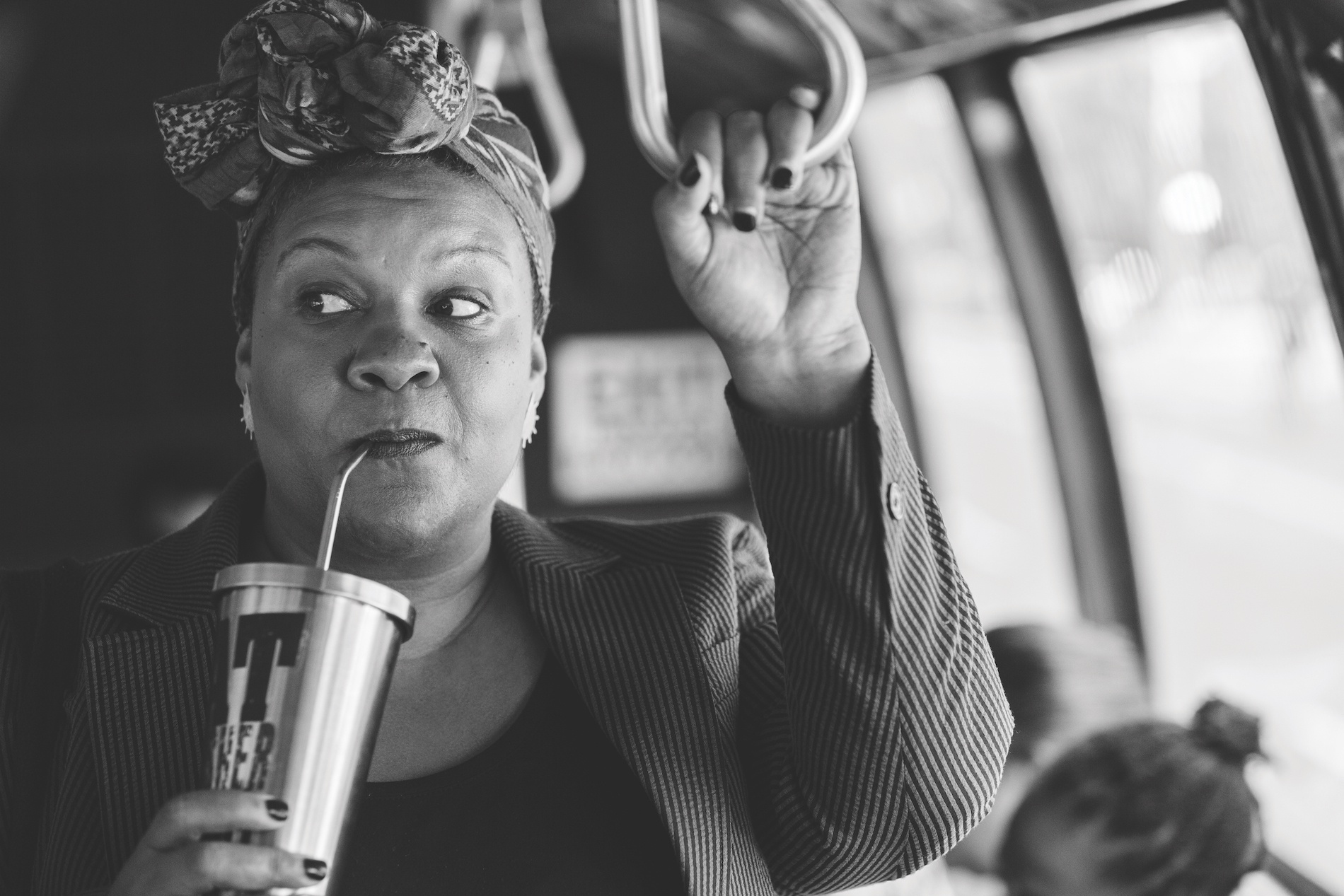 Rachel Brosnahan, "I'm Your Woman"
Set in the 1970s and inspired by dark crime epics from that era, Julia Hart's housewife-on-the-run thriller makes us wonder what other narratives could benefit from a feminine spin. Brosnahan's portrayal of Jean, evolving from helpless to headstrong amid her husband's world of shady dealings and mob bosses, is proof that women can lead any film genre. It's also proof that Brosnahan can do it all.
Carrie Coon, "The Nest"
If there is anything on earth better than Coon delivering devastating drama, it's Coon delivering devastating drama while sobbing over a horse. Which is to say, she is at the height of her considerable acting powers in "The Nest," Sean Durkin's tale of transatlantic class anxiety that allows Coon to run the gamut from exquisite restraint to all-out mania.
Viola Davis, "Ma Rainey's Black Bottom"
What's the best part of Davis' performance as the titular crooner in her latest August Wilson adaptation? Is it her husky singing voice, her swiveling hips, or the fire in her eyes? The five-time SAG Award winner uses her bone-deep physical performance to convey the rich interiority of the real-life Ma Rainey, Mother of the Blues and sufferer of no fools.
Andra Day, "The United States vs. Billie Holiday"
The task facing Day in Lee Daniels' ode to one of America's most iconic singers would intimidate any star, let alone a first-time actor: She must recreate Billie Holliday's one-of-a-kind stage presence and remind us that she was both an unsung civil rights hero and flawed human being. Watching Day rise to the occasion with such a technically and emotionally calibrated execution is a treat.
Clare Dunne, "Herself"
Dunne will break your heart in this story of a single mother building her daughters a house, which she co-wrote with Malcolm Campbell. Known mostly for her work onstage in her native Ireland, the actor lights up the screen even in her character Sandra's most despondent moments; the more the world stands in her way, the more we root for her to truly find herself.
Sidney Flanigan, "Never Rarely Sometimes Always"
Less is often more when it comes to acting, especially when playing a quiet teenager on an arduous mission to get an abortion. Flanigan reveals next to none of Autumn's thoughts or emotions—until the scene in which the film title's meaning is revealed, and she opens the floodgates. It may be the most devastating onscreen moment of the year.
Julia Garner, "The Assistant"
In a stark departure from her Emmy-winning work as the fast-talking Ruth on "Ozark," Garner barely speaks in "The Assistant," Kitty Green's subtle and devastating depiction of workplace abuse. The fact that Garner can relay so much in saying so little makes her performance in the title role opposite a Harvey Weinstein–esque producer all the more impressive—and eerily, painfully realistic.
Yeri Han, "Minari"
The best depictions of rage are the least obvious. As Monica, a Korean-American matriarch resistant to her husband's dream of farming in a small Arkansas town, Han runs the gamut of actorly emotions: grim desperation, tentative hope, and maternal warmth. But bubbling under it all, like the water beneath the family's ill-fated farm, is an outrage that makes this one of the year's most riveting turns.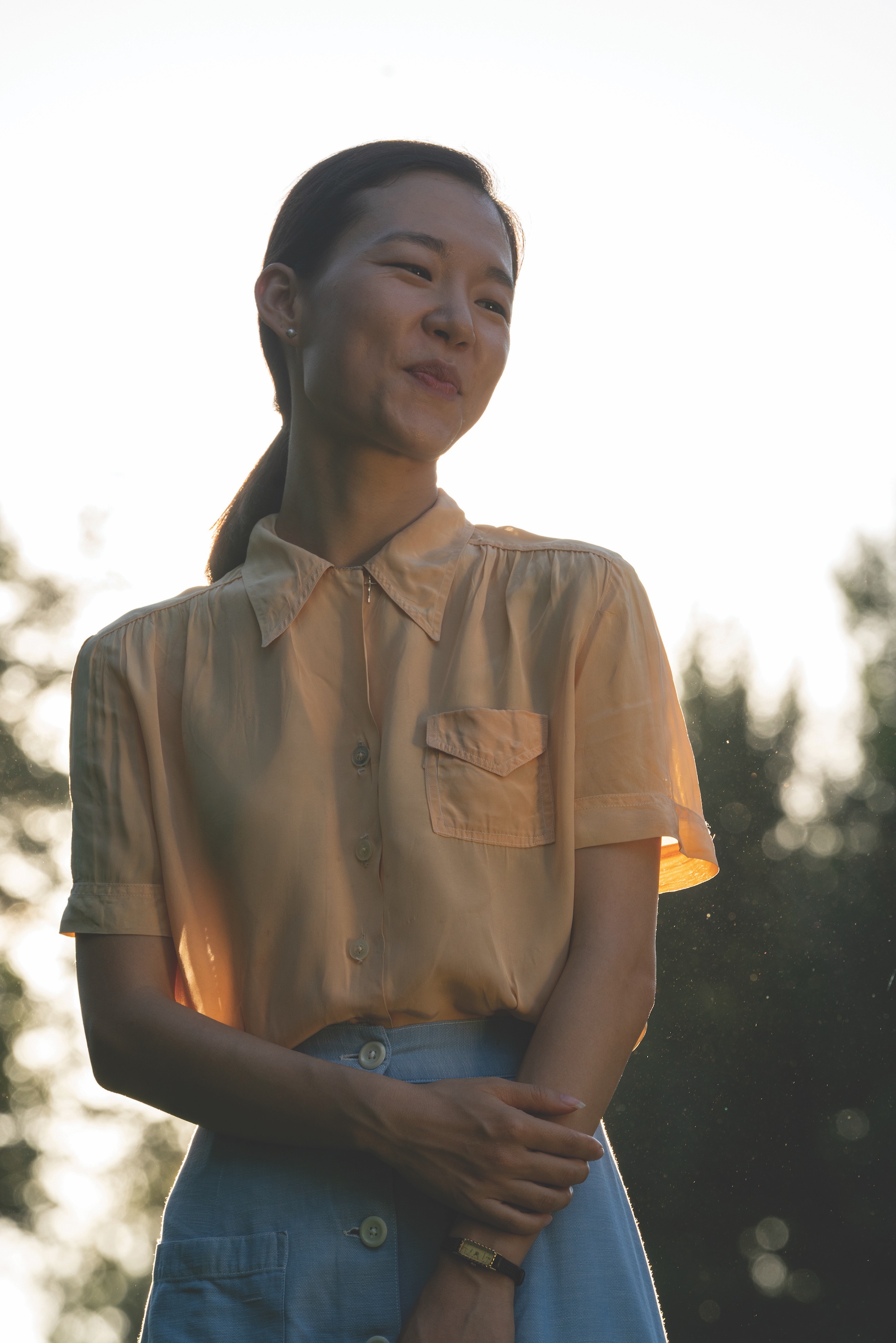 Rashida Jones, "On the Rocks"
Jones proves a perfect fit for Sofia Coppola's directorial style, which centers nuanced, naturalistic performances that audiences can instinctively relate to. As Laura, Jones' comic timing remains, yet is admirably restricted; concern for her marriage guides her actions, but never overtly so. Most of all, Jones generates effortless chemistry with Bill Murray as her father, conveying a lifetime of unspoken resentments—and, ultimately, real love.
Vanessa Kirby, "Pieces of a Woman"
If you didn't know Kirby's name before, you will after this awards season thanks to her stunning, wrenching, somehow still beautiful work in Netflix's "Pieces of a Woman," which sees the former "The Crown" Emmy nominee working through the aftermath of losing a baby in agonizing emotional detail. It's the kind of role that requires so much of an actor that it boggles the mind.
Sophia Loren, "The Life Ahead"
Some actors are so charismatic and so naturally skilled at illuminating the screen that they remind us where the term "star" originates. Throughout her long and prosperous film career, Loren has existed as a celestial being, bringing life to characters both glamorous and ordinary. As Holocaust survivor Madame Rosa in "The Life Ahead," she's both; regarding 14-year-old street kid Momo (Ibrahima Gueye), her eyes convey both weariness and inner fire.
Julia Louis-Dreyfus, "Downhill"
Louis-Dreyfus, the record holder for most individual SAG Award wins, turns this depiction of a family traumatized by an apparent avalanche into an opportunity to combine all her actorly tricks. She mutters under her breath, builds rage that's both believable and hilarious, and portrays silent moments so precisely that they speak volumes. As her character Billie's marriage to Will Ferrell's Pete shatters like thin ice, the comedic maestro plays on the spectrum between shock and despair.
Frances McDormand, "Nomadland"
Calling McDormand's "Nomadland" performance her most understated one yet feels redundant, given the documentary-like quality of Chloé Zhao's study of van-dwelling nomads. It's like the actor lived for months as the determinedly grieving Fern, and Zhao's camera simply captured her everyday movements. But make no mistake: The four-time SAG Award–winning McDormand is at the height of her powers, finessing every onscreen moment. 
Cristin Milioti, "Palm Springs"
Sarah, the sister of a hipster bride who's caught in an infinite time loop, is, on paper, a fun character for any actor to play. But it takes someone like Milioti—probably only Milioti, with her cartoonishly darting eyes and bone-deep cynicism—to give the character both laugh-out-loud spontaneity and also pathos in her unlikely love story opposite Andy Samberg's Nyles. It's hard to imagine anyone more perfect for the role.
Sienna Miller, "Wander Darkly"
Miller gives a quite literally dizzying performance in "Wander Darkly," disorienting both herself and her audience. Playing the concussed Adrienne, who may, in fact, be dead, the actor takes us directly inside her character's mesmerizing journey through the highest highs and lowest lows with Diego Luna's Matteo, the love of her life. It easily ranks among the best work of Miller's career.
Elisabeth Moss, "The Invisible Man"
The "unhinged woman" archetype that Moss has honed across her recent roles comes to fruition in this hit horror reboot. As the abused ex-lover of a wealthy scientist whose bodysuit renders him invisible, Moss moves throughout the action like a balled-up fist—tense and ready to strike—as she tries to convince everyone of her sanity. We watch with bated breath until she finally lets herself unclench.
Carey Mulligan, "Promising Young Woman"
Mulligan's turn as Cassandra Thomas in "Promising Young Woman" is like the film itself; don't let her character's sunny styling and California surroundings fool you. Her measured portrayal of a woman on a mission—deliberately revealed bit by bit by writer-director Emerald Fennell—surprises until the very last moment. If the sinister way Cassandra toys with handsy men weren't so delightfully thrilling, it would be downright terrifying.
Eva Noblezada, "Yellow Rose"
Noblezada wears her heart on her sleeve in Diane Paragas' searing ode to—and diatribe against—the American dream. As Rose Garcia, a Texas teen and aspiring songwriter whose mother (Princess Punzalan) is deported back to the Philippines, she channels that heart into country music. Broadway audiences have heard firsthand how the actor infuses her every note with palpable emotion; that skill is no less felt onscreen.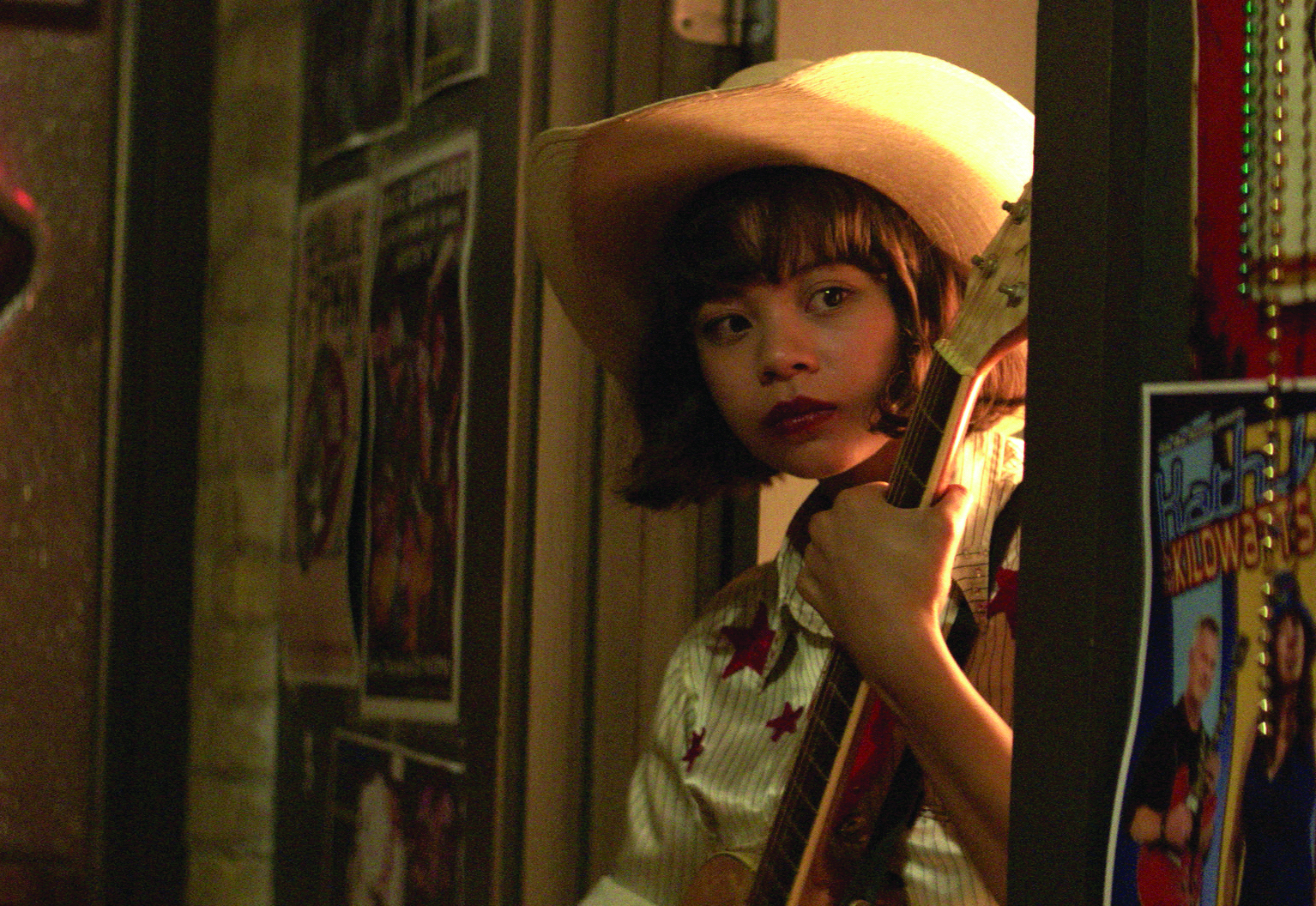 Michelle Pfeiffer, "French Exit"
Pfeiffer's turn in "French Exit" is a long-awaited return to form for the three-time Oscar nominee. Her rendering of a washed-up socialite filing for bankruptcy and ditching Manhattan for Paris is so flawless and fun that it makes us feel like the Pfeiffer we know and love never really left the screen. It's the kind of performance that serves up a delicious three-course-meal of acerbic acting.
Margot Robbie, "Birds of Prey: And the Fantabulous Emancipation of One Harley Quinn"
Robbie's winning Harley Quinn is the glue that holds this rambunctious, campy, female-led vehicle together. Could anyone else make a sociopath this charming? Her take is a welcome departure from the tried-and-true DC superhero movie formula; Harley's rapturous ode to a bacon-and-egg breakfast sandwich is more emotive than the entirety of most "Batman" movies.
Meryl Streep, "The Prom"
We've seen Streep have her share of movie-musical fun before, but never quite on this level. As weathered Broadway diva and coastal elite Dee Dee Allen in Ryan Murphy's stage-to-screen adaptation of "The Prom," she takes no prisoners. Her rendition of "It's Not About Me" is a musically astounding showstopper performed the way that only Streep can: flawlessly.
Anya Taylor-Joy, "Emma."
Taylor-Joy's stellar performance on "The Queen's Gambit" may be one of the year's highlights, but her turn as this classic literary heroine should not be overlooked. Witty, flirty, clever, and scene-stealing are just a few descriptors of her take on a character who could easily skew toward petulant and nosy. She shoulders the titular role with such ease that you may even wish Jane Austen had written a sequel.
Charlize Theron, "The Old Guard"
Theron has officially entered the action hero phase of her career, and unlike many (male) stars who've done the same, she's not selling out for cheap thrills. Gina Prince-Bythewood and Greg Rucka's pulse-pounding drama about a team of immortal warriors is the latest example of not only Theron's badass bona fides, but also her determination to infuse what could be two-dimensional superhero fare with three-dimensional nuance.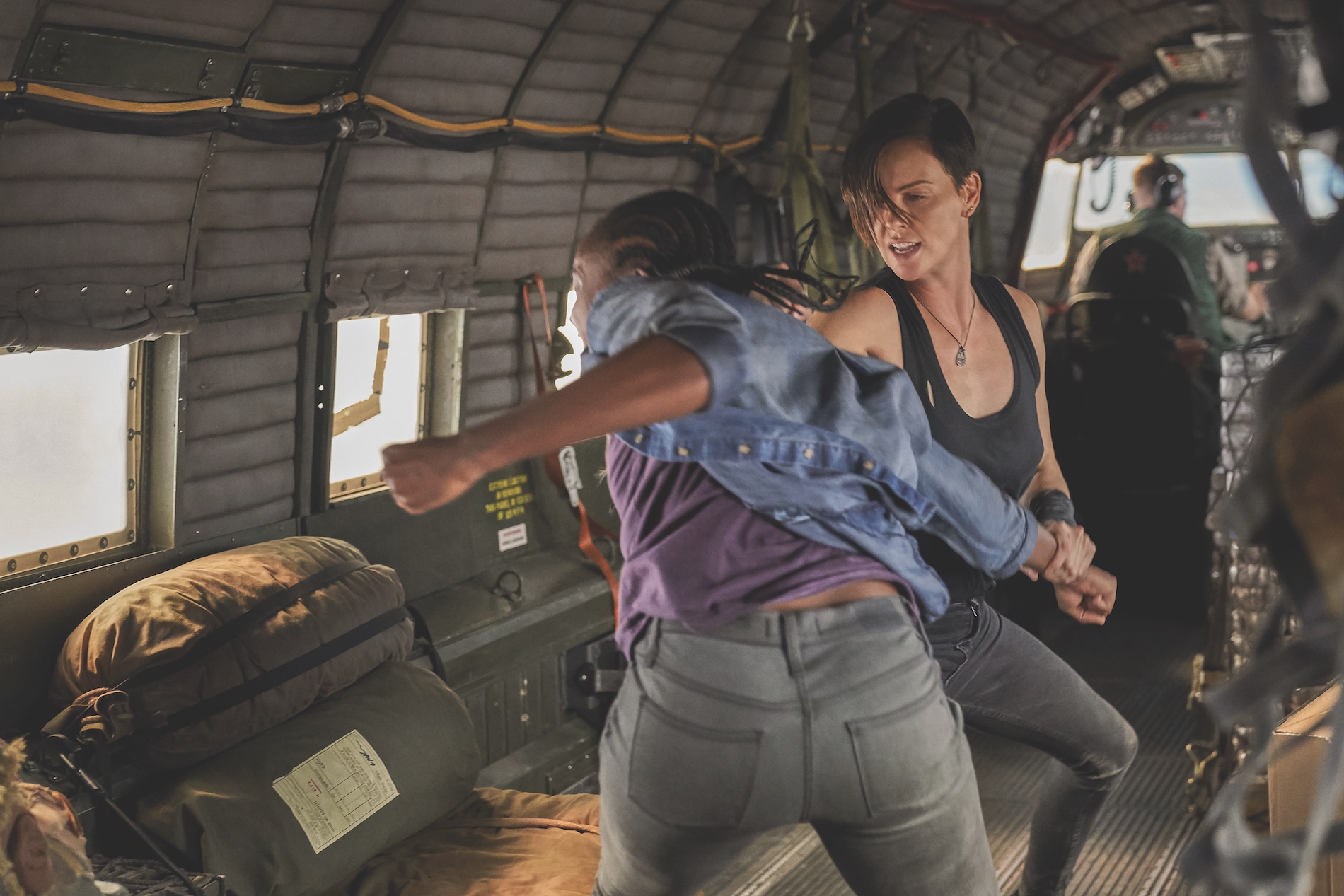 Kate Winslet, "Ammonite"
Winslet plays Mary Anning, England's famously self-taught paleontologist, in this tale of romance—first resolutely repressed, then explosively passionate—opposite another woman, played by Saoirse Ronan. Scouring the frigid coastline of Lyme Regis for washed-up fossils, brow furrowed in distinctly Winslet-ian fashion, the three-time SAG Award winner reminds us of the nearly endless depths of meaning that a micro-expression can bring to the camera lens.
Robin Wright, "Land" 
For such a quiet film, "Land" sure packs a punch. You can feel Wright's passion in every frame—and not just in her capacity as a first-time feature director. We've never seen the veteran actor mine the depths of a lost soul quite like she does as Edee Mathis, a bereaved mother and wife who escapes to the Rocky Mountains to live off the grid.
Zendaya, "Malcolm & Marie"
Fresh off a historic Emmy win, this young star is the talk of Hollywood. Fittingly, Zendaya's follow-up to teen series "Euphoria" pairs her again with writer-director Sam Levinson. "Malcolm & Marie," his two-hander romantic drama filmed under COVID-19–safe conditions, showcases the actor's ability to share intimacy onscreen—or suddenly withdraw it, as she does to gut-wrenching effect in this film.
OUTSTANDING PERFORMANCE BY A MALE ACTOR IN A LEADING ROLE
Ben Affleck, "The Way Back"
Reminding us he has the chops to play heavy, nuanced material, Affleck gives his all to this sports drama and character study on addiction. As an alcoholic construction worker tasked with coaching his alma mater's high school basketball team, Affleck conveys the extremes of a man struggling toward recovery—haggard helplessness, all-encompassing self-hatred, and hope—without steering into melodrama.
Riz Ahmed, "Sound of Metal"
As Ruben, a heavy metal drummer and recovering addict who discovers that he's going deaf, Ahmed paints a devastating portrait of dependency in all its forms. Brilliantly underscored by the film's sound design, his choice notes of wide-eyed fear or quiet discontent at a loud party provide a visceral, tragic look at life as a newly deaf person transitioning out of a hearing world.
Kingsley Ben-Adir, "One Night in Miami"
Ben-Adir is utterly unforgettable playing two major historical figures this year: President Barack Obama on Showtime's "The Comey Rule" and Malcolm X in Regina King's feature directorial debut, "One Night in Miami." The actor deserves all the buzz he's earned for the latter, in which he brings newly excavated vulnerability to a man who's otherwise been known as the lacerating demagogue of the civil rights movement.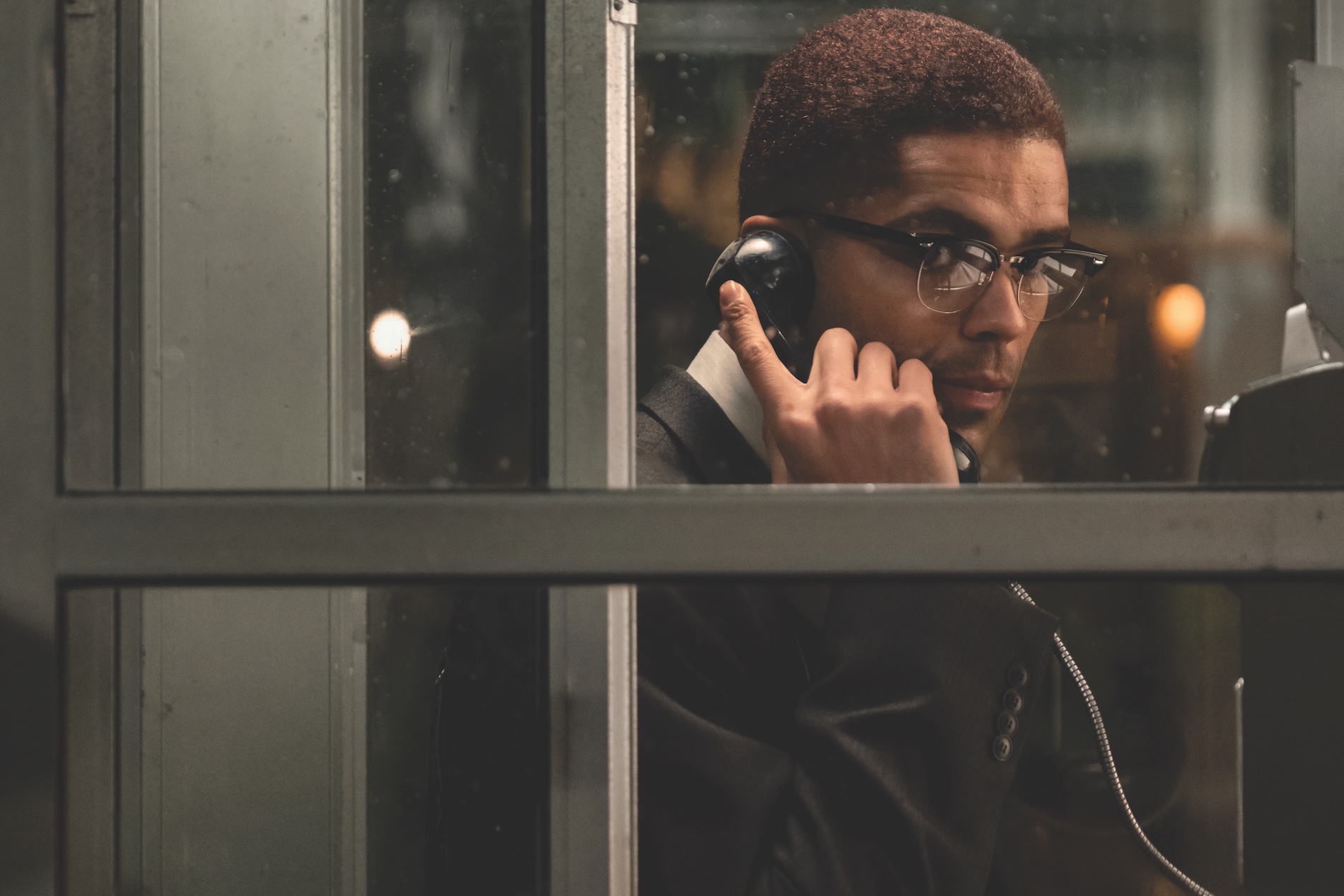 Chadwick Boseman, "Ma Rainey's Black Bottom"
There's a raw wound underneath the suave, cocky demeanor that Boseman gives Levee, a rebellious trumpeter who flies too close to the sun. Delivering one of August Wilson's biggest monologues, a tirade against God suffused with pain and outrage, Boseman lets the words pour out of him like a jazz solo. It's the film performance of the year, and a tragic reminder of this late actor's skill and irrepressible humanity.
George Clooney, "The Midnight Sky"
Equal parts dystopian speculation, wondrous science fiction, and edge-of-your-seat thrill ride, "The Midnight Sky" again finds Clooney proving that he can act—and direct—anything. This time, he's a cancer-ridden scientist journeying through the Arctic to warn a team of astronauts against returning to a post-apocalyptic earth. Certain stars can make a gesture as simple as staring upward at the heavens feel weighted with meaning, and he is one of them.
Sacha Baron Cohen, "Borat Subsequent Moviefilm"
Cohen reprises his iconic, moronic Kazakh journalist with renewed verve 14 years after "Borat" upended mockumentary filmmaking. He'd already proven there's little he won't do for a bit; but in an election year, the actor outdoes himself—as Rudy Giuliani can attest. Cohen is a master of improvisation designed to suss out what's driving his scene partners' deepest impulses, whether they've been knowingly cast or not. Isn't that the definition of great acting?
Colin Firth, "Supernova"
When Stanley Tucci's Tusker tells his devoted life partner Sam, as played by Firth, "You just sit there doing nothing, propping up the entire world," it's a description you feel in your bones. On a road trip with Tusker, watching helplessly as he slips into early-onset dementia, Sam must traverse every extreme—embarrassment, fury, adoration—as they face this new chapter in their life together. Firth lets us experience those feelings firsthand.
Tom Hanks, "News of the World"
Traveling from town to town reading newspaper stories in the years after the Civil War, Captain Jefferson Kyle Kidd genuinely believes in a collective humanity more than antebellum Southern values. Only an actor with Hanks' charismatic power could convince us of such repentance. He's also a wonder at conveying this widower's resistance to grief; Hanks suggests that it's not only the perils of his journey that the captain is running from. 
Tom Holland, "Cherry"
What this young "Spider-Man" star delivers in "Cherry" (directed by "Avengers" masterminds Anthony and Joe Russo) is the kind of showcase that could notch him awards gold. Playing a PTSD-addled army vet milking a heroin addiction by robbing banks, there's a lot the actor must calibrate emotionally, psychologically, and morally. By not missing a beat, Holland proves more than ready for prestige drama.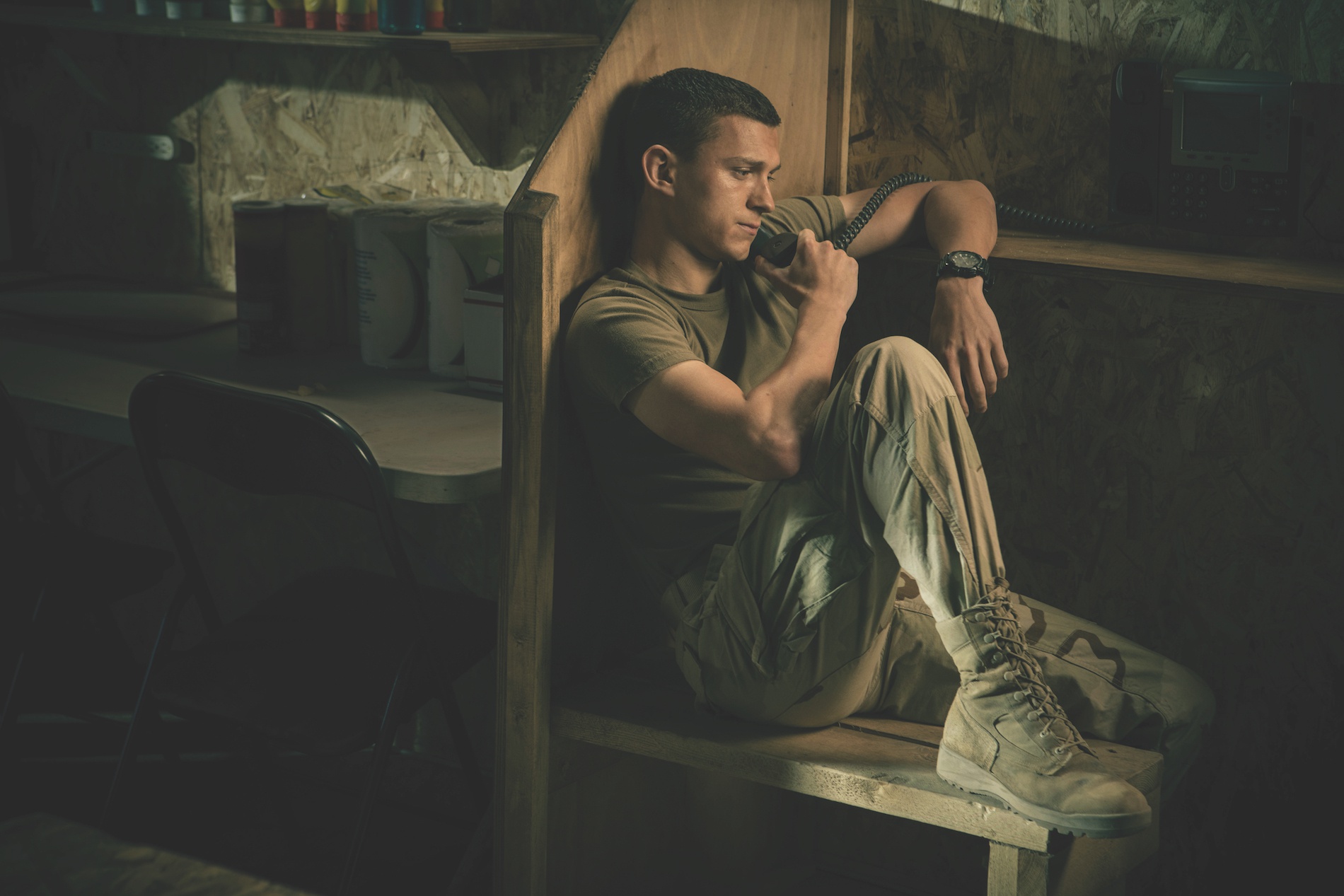 Anthony Hopkins, "The Father"
A character losing his grip on himself requires, paradoxically, an actor with the utmost self-awareness. Hopkins gives a master class in using precision to depict a lack of mental precision in Florian Zeller's stage-to-screen adaptation about a father experiencing dementia. It's one of the most poignant performances yet from this awards-dominating legend, who has notably never won a SAG Award.
Delroy Lindo, "Da 5 Bloods"
"I see ghosts." As Vietnam War vet Paul, Lindo plays every bit of the emotional spectrum as a PTSD-suffering, MAGA-hat-wearing curmudgeon reuniting with his three brothers-in-arms and his semi-estranged son for one final mission in the jungle. Amid Spike Lee's narrative tonal shifts—moving from buddy adventure comedy to wartime drama—Lindo elevates both subtle choices and stunning direct-to-camera monologues to Shakespearean proportions.
John Magaro, "First Cow"
As a cook eking out a living in the 19th-century Oregon Territory, Magaro delivers a refreshingly gentle performance, bringing an incongruous tenderness to an otherwise rough-and-tumble pioneer town. His easy chemistry with co-star Orion Lee is the heart of Kelly Reichardt's delicate, devastating film, which offers an unforgettable meditation on the real costs of the entrepreneurial American spirit.
Mads Mikkelsen, "Another Round"
Playing drunk can be one of an actor's trickiest tasks. As Mikkelsen illustrates in Thomas Vinterberg's Danish hit about a group of depressed teachers experimenting with upping their blood alcohol, it requires a careful calibration of comedy, tragedy, and, always, believability. Watching Mikkelsen's Martin performing a raucous jazz ballet or upending his marriage, you'd be forgiven for thinking he spent most of the filming inebriated himself.
Gary Oldman, "Mank"
One Academy Award–winning, appearance-altering turn isn't enough for a chameleon like Oldman. In "Mank," he steps into the shoes (and prosthetics) of another Oscar winner, Herman J. Mankiewicz, disappearing into the alcoholic screenwriter's bedclothes and memories of old Hollywood. Ornery, intoxicated, and tucked away in a desert cottage writing "Citizen Kane," Oldman's work as Mank just might put even more gold on his mantle.
Jim Parsons, "The Boys in the Band"
For those who know the award-winning Parsons for his nerdy character work on "The Big Bang Theory," buckle up. Neurotic is an understatement for the way he renders Michael, host of a 1968 Upper East Side party, in Joe Mantello's Netflix adaptation of Mart Crowley's boundary-pushing queer drama. Drunkenly maudlin, self-hating, and gifted with a venomous viper's tongue, this is Parsons like we've never seen him before.
Dev Patel, "The Personal History of David Copperfield"
Giving Charles Dickens' coming-of-age classic a wild and wonderful spin, Armando Iannucci makes brilliant casting choices, populating his Victorian England with eccentric character actors. That's especially true for Patel in the title role; few other stars can simultaneously play both a dashing leading man and a fascinating oddball. He captures every step of David Copperfield's journey, from youthful naivete to shrewd curiosity to gentlemanly charm.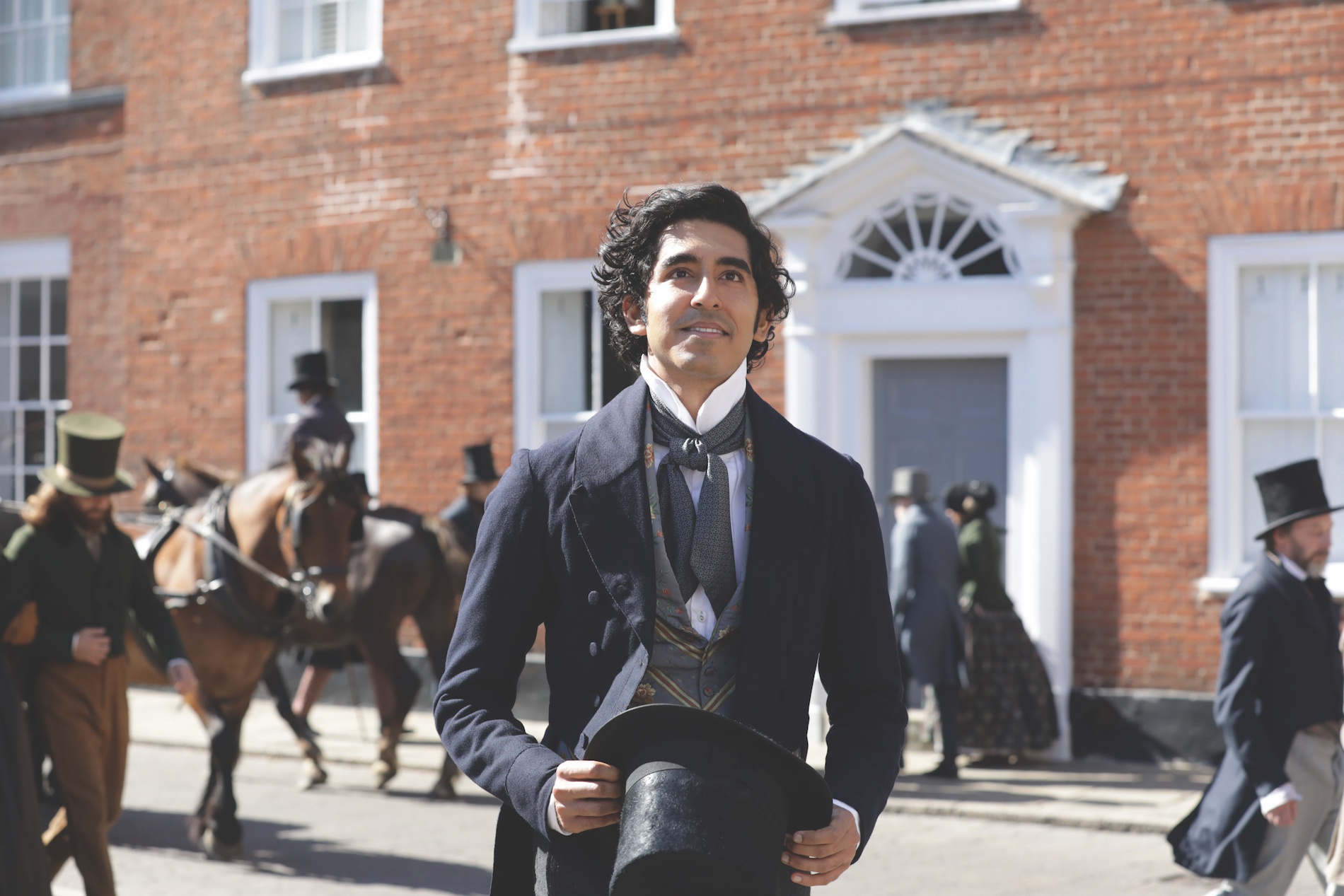 Jesse Plemons, "I'm Thinking of Ending Things"
Plemons has been heralded as his generation's Philip Seymour Hoffman, and we can't disagree. In Charlie Kaufman's breathtaking deep-dive into a collective psyche that includes a relationship on the rocks, two parents, and a school janitor, Plemons showcases just how a character actor can bring his everyman charisma to the fore as a lead. He guides us on this unassumingly moving, wintry ride, breaking our hearts in the process.
Tahar Rahim, "The Mauritanian"
After compelling turns in "A Prophet," "The Past," and miniseries "The Looming Tower," Rahim is no longer one of Hollywood's best-kept secrets. His chameleonic skills, especially with accents and physicality, are on display in Kevin Macdonald's retelling of Mohamedou Ould Slahi's unjust Guantanamo Bay captivity. But it's Rahim's ability to tug at our heartstrings with the subtlest glance that makes this one of the year's most affecting performances.
Lakeith Stanfield, "Judas and the Black Messiah"
Stanfield once told Backstage that his "whole existence is about doing whatever I want, and the moment I'm not allowed to do that, I get really antsy." This personal and professional M.O. is evident in the instinct-based, raw-nerve screen performances he's delivered since his "Atlanta" breakout in 2016. It's never been more on display than in his turn as William O'Neal, the titular real-life Judas and FBI informant against the late civil rights leader Fred Hampton. 
Mark Wahlberg, "Joe Bell"
Despite establishing his dramatic credentials years ago, Wahlberg's acting chops are still fresh and surprising. In the title role of a real-life father suffering through a parent's worst nightmare, he harnesses his outrage over anti-gay bigotry—and ours. He leaves us in a tantalizing gray area, inviting us to ask the questions of his character that we all must ask ourselves.
John David Washington, "Malcolm & Marie"
Opposite only one other actor, Washington proves his star power once again. "Malcolm & Marie" is the strongest of his recent leading man turns, following "BlacKkKlansman" and this year's epic "Tenet." There's a vivid present tense to his Malcolm, a filmmaker on the verge of rising through the Hollywood ranks. Throughout the titular couple's every unsettling revelation, he commands our attention.
Denzel Washington, "The Little Things" 
The title of this John Lee Hancock thriller refers to the details that a determined detective can find in a crime scene, but it could also apply to Washington's fastidious approach to building characters. His turn as traumatized deputy Joe "Deke" Deacon reminds us yet again that there are few other actors whose natural yet compelling choices can both propel a story forward and anchor it emotionally.
Steven Yeun, "Minari"
No dream—especially the American dream—can be achieved without a cost. As Jacob, a Korean immigrant father and husband who determinedly moves his family to an Arkansas farm plot, Yeun demonstrates first the blind optimism of what he sees as success, then the crushing weight of what he considers failure. He also beautifully charts his character's full-circle journey away from selfishness and back toward what really matters.
Want more? Stay in the loop with everything you need to know this awards season right here!