Throwback to Babil Khan's speech on the Filmfare Awards' stage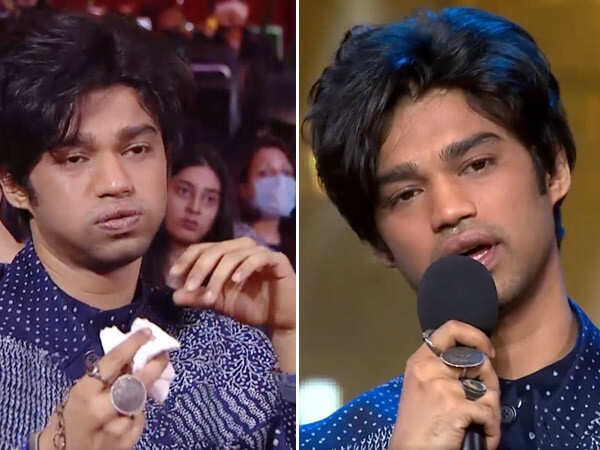 Babil Khan is the late Irrfan Khan's elder son. The actor's passing away affected so many people including his own family very deeply. Babil recently opened up and said that he even went into depression post his dad's demise, however, his mother helped him get out of it. Today, on Irrfan's first death anniversary, we take a look back at the Vimal Elaichi Filmfare Awards 2021, where Babil Khan arrived to take late Irrfan's awards. Irrfan won the award for Best Actor in a Leading role (Male) as well as Lifetime Achievement Awards.

Taking hold of his father's Lifetime Achievement Award, Babil said, "I really really really am so grateful that you all have accepted me with open arms, you'll gave me so much warmth and so much love and all I want to say is that you and I will make this journey journey, we'll take cinema to new heights and I promise you that, I promise you."


While taking his father's Best Actor In A Leading role (Male), Babil said, "You know how people say you can't fit into your father's shoes, I at least fit into his clothes. Very few people know this, but I was supposed to come back from film school and that's when dad was supposed to teach me acting and what happened was that he said, 'bhai ab toh seekh lo mujhse acting, pata nahi kab karoge' and I told him 'chalo kal se done'. And that was the day he went to the hospital and said that 'teen din mein wapas aata hun' and then he never came back. So now I am trying to learn on my own, Jaideep sahab, Vijay Verma sahab, Pankaj Tripathi sahab, ab aap sab se hi seekhunga. I wish there was something more that I could say, but I guess for there are better things to do for him. So, let's just honour him and let's party after all this is done." Cherishable memories, aren't they?


Check out the video below…
Subscribe to our YouTube channel
Recommended for You
Loading Next Article...