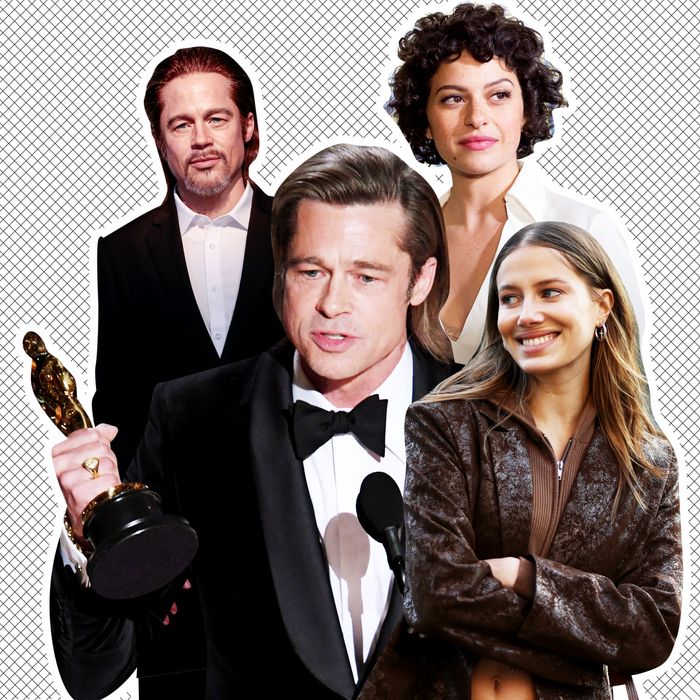 😉
Photo-Illustration: by The Cut; Photos: Getty Images
Everybody knows that 2020 has been a terrible year for many, some would say most, things. I imagine that for you, as for me, the end-of-days bingo bit has become a little tiresome and gratuitous — we get it, we know, we lived it. Suffice it to say, the past 12 months have been just awful.
Unless, perhaps, you are Brad Pitt?*
I, obviously, am not Brad Pitt, so really I cannot claim to know how things have been for him. But what I can tell you is that despite everything — despite the distance and the existential dread and the sadness and the whiplash — the man has refused to leave us in peace. For this we are grateful. So please, allow us to review: a hell year enshrined in Brad.
The SAG Awards interlude
The date was January 2020, and Brad Pitt ran into his ex Jennifer Aniston backstage at the SAG Awards. Brad had just won for his supporting role in Once Upon a Time in Hollywood, Jen for her work on The Morning Show. The pair collided in a memorable photo moment, made all the more impactful by Brad's grabbing of Jen's wrist as she walked away from him. Arguably, he has no business clawing at her like that, seeing as Brad was the one who left Jen for Angelina Jolie. But what was that written all over his face as he watched her walk away — was it longing, regret, lingering affection? We do not know, but we welcome the emotional chaos.
The Oscars (he won one!)
If we have not already said it, huge congrats to Brad Pitt on his 2020 Oscar win (also for Once Upon a Time in Hollywood). This is an exciting achievement all on its own, but burrowing your way into the president's brain space and driving him to distraction with your speech, as Brad did when he used the opportunity to criticize Senate Republicans for their handling of the impeachment trial? A two-for-one jackpot, well done.
He made a new millennial friend, took in the culture
Before coronavirus lockdowns descended and large public gatherings were placed firmly off-limits, Brad Pitt managed to sneak in a Thundercat concert with his millennial art pal, Alia Shawkat. Hip boomer, hell yes!
He explored his range with part-time gigs …
In a year when many celebs found themselves suddenly severed from the lifeblood that is movie sets and red carpets, Brad Pitt managed to snag a bunch of inventive side gigs. He briefly became a Property Brother, helping to build a beautiful and extravagant guest suite for his former makeup artist, who was, at one point, tasked with applying makeup to his butt. He did a stint as a weatherman (on John Krasinski's YouTube show), and as Dr. Anthony Fauci (on SNL), and as your part-time boyfriend (in an ad campaign). Busy!
… he got himself a hot, married GF …
And while he was doing all that, Brad Pitt also found himself a part-time girlfriend: Nicole Poturalski, a good-vibes-only model who turned out to already be married. This was not a problem, though, because Poturalski's husband had already been married several times and had his own shit going on (namely, running a trendy Berlin restaurant). He was therefore "not interested in negativity or jealousy" — how refreshing. Unfortunately, the romance was short-lived, but nonetheless I am dutifully pasting Brad Pitt's hot girlfriend into the scrapbook of my brain.
… AND a role in the Fast Times table read
Possibly aware of the embarrassing frenzy that followed their SAG Awards interlude, Brad and Jen teamed up again for the Fast Times at Ridgemont High table read. Brad voiced … Brad, as in Brad Hamilton, and Jen voiced Linda Barrett, the object of his teenage horn. Real-life Brad mostly let the quiet sluttiness of his bang do the acting, but the magnitude of this moment still overwhelmed the rest of the celebs on the Zoom call.
He raised an army of clones
Somewhere in the midst of all this action, Brad Pitt still found time to train countless fake Brad Pitts — really, who knows how many of them may be out there. Impressive! And also, watch out for imposters.
And he still found the time to give back!
Yes, it was a very busy year in Brad Pitt, and yet he still found time to give back. Click here for a foxy and philanthropic surprise — Brad Pitt's parting gift to you.
* In which case … ;)