Ripped Apart: Living Misdiagnosed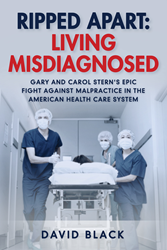 Ripped Apart: Living Misdiagnosed, by critically acclaimed author David Black tells the story – Gary and Carol Stern's story – of the one of the largest individual medical malpractice awards in America. It describes in detail what it is like to suffer due to doctors' mistakes and their refusal to a

NEW YORK (PRWEB)
April 12, 2021
Carol Stern realized her husband Gary was sick in May of 2011, when she came into the living room of their townhouse in Baltimore and found him sitting on the edge of the couch, rocking back and forth. "The Three Stooges" were on TV. His favorites. Carol used to tell him, "Do you realize how much violence is going on in there?" He would say, "But it's funny. Okay?"
Gary knew about violence. He and his brother, David, were bail bondsmen and bounty hunters. Not so funny. Jewish bounty hunters. Okay, a little funny.
Ripped Apart: Living Misdiagnosed, by critically acclaimed author David Black tells the story – Gary and Carol Stern's story – of the one of the largest individual medical malpractice awards in America. It describes in detail what it is like to suffer due to doctors' mistakes and their refusal to admit they made erred.
The gritty – sometimes gruesome – detail is important because (as in the movie M*A*S*H) the reality of what Gary and Carol Stern went through reflects what many people experience but are afraid to discuss. A silence that prevents others from revealing what they have experienced in American hospitals – in which 50% of the patients in hospitals are there due to being in a hospital. A silence that prevents the country from frankly dealing with the health care crisis we face.
Gary Stern spent three years with his internal organs on the outside of his body. This book is not a polite narrative. The book describes what suffering is like in stark detail and how American Health Care fails. It also describes, despite their medical misery and dramatic, landmark legal case, the love story Gary and Carol shared; it is a story about love overcoming the horror they endured.
Carol claims she was helped by angels, but she was her husband's angel. An angel with an indominable will and an inability to take "no" for an answer, even when doctors said that Gary was about to die. She would not let him die until he told her he was ready. Keeping him alive led her to fight the American Health Care system, including struggling – successfully – with the White House.
It is the most candid, honest account of medical malpractice ever written. Gary and Carol are both heroes and their love knew no boundaries, not even death.
To preorder the book visit http://www.skyhorsepublishing.com.
On social media (Facebook, Instagram and Twitter), follow @rippedapartbook.
ABOUT CAROL STERN

Carol Stern is the Widow of Gary Stern, and the victor of one of the largest medical malpractice awards in US history. Ripped Apart by David Black is the real-life account of how her and her husband's love was tested during the darkest of times. Carol's real-life chronicle reveals how she overcame obstacles throughout her life up through a commitment to her spouse from the moment he was diagnosed through his last breaths that never wavered. The book also pulls back the curtain in detail what it is like to suffer due to doctors' mistakes and their refusal to admit they made them. Carol recounts in great detail how her husband and the love of her life, Gary, spent three years with his internal organs on the outside of his body and how she stopped at nothing to make sure he was under the best possible care at all times, even if that meant taking things into her own hands.
ABOUT DAVID BLACK

David Black has written ground-breaking books and articles on medicine, including The Plague Years, one of the first books on AIDS (which was nominated for a Pulitzer Prize and was originally published in Rolling Stone, where it won the National Magazine Award for Reporting and the Science-in-Society Award), "Medicine and the Mind" (which won Playboy's Best Article of the Year Award), and The Making of a Doctor, a book based on a two-part New York Times Magazine article, which prompted the Lasker Foundation to give a multi-million dollar gift to New York University Hospital.
TV Guide chose one of Black's Law & Order shows – "Life Choice" – as one of the 100 best episodes in the history of television. He received the Edgar Allan Poe Special Award from the Mystery Writers of America for best fact crime book for Murder at the Met. His second Edgar Allan Poe Award nomination was for "Happily Ever After," an episode of Law & Order. His third Edgar Allan Poe Award nomination was for "Carrier," also an episode of Law & Order. In Rolling Stone's 50th Anniversary history he was one of only six writers profiled.
He won the Writers' Guild of America Award for The Confession. He was also nominated for the Writers' Guild of America Award for an episode of "Hill Street Blues." He received an American Bar Association Certificate of Merit for "Nullification," a controversial episode of Law & Order about Militia groups, which the Los Angeles Times called an example of "the new Golden Age of television."
Among the television shows Black has produced and written are the Sidney Lumet series 100 Centre Street, which was listed as one of the 10 best shows of the year, the Richard Dreyfuss series The Education of Max Bickford, CSI-Miami, the new Kojak, Hill Street Blues, EZ Streets, Miami Vice, Bluebloods, Law & Order: Criminal Intent, Law & Order: Trial By Jury, the original Law & Order, which received an Emmy nomination for Best Dramatic Show and a Golden Globe nomination, and Copshop, an innovative PBS series filmed in one-take, three camera real time, which won a Prism Award in 2005. He has been nominated for the PGA Golden Laurel Award.
Share article on social media or email: