Red carpet plays significant role in fashion industry | Cyprus Mail
Never a place for lesser mortals, the welcoming strip is now a true showcase says NIKI CHARALAMBOUS
The month of January kicked off award season, with A-list celebrities walking the red carpet to showcase trendsetting fashion styles from their favourite designers. So far this month, we have seen memorable looks and high-fashion ensembles pulled straight from the runway for both the Golden Globe Awards and the Critics' Choice Awards, with the Grammy Awards and BAFTA Film Awards promising additional surprises next month.
The clothes worn to award ceremonies are constantly scrutinised by the international media, making the red carpet an important international product placement area for fashion designers. The red carpet is unquestionably associated with high status, style, and opulence. It serves as the foundation for today's award ceremonies, galas and premieres around the world. The famous red carpet distinguishes movie stars from the rest of us.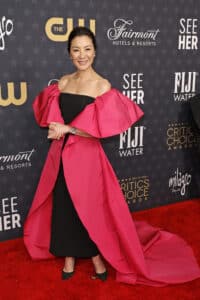 The red carpet was not originally intended for ordinary people. In Aeschylus' play Agamemnon, when the king's vengeful wife Clytemnestra prepares for her husband's triumphant return from the Trojan War, a path of dark red tapestries is laid out. The king is hesitant to follow the "crimson path" laid out before him because he is "a mortal" not a god. "I cannot trample upon these tinted splendours without fear thrown in my path," he says, and as happens soon after setting foot on it.
The red carpet has come to be associated with celebrities, who have essentially become today's royalty. A long, red carpet was unfurled in front of the Egyptian Theatre in 1922 for the Hollywood premiere of Robin Hood, the first motion picture ever to have a premiere, making an impression on the media and the public who had gathered to welcome the stars of the film.
In the decades that followed, the red carpet has been one of the few places where the public has been able to catch a glimpse of charismatic stars and fashion icons. This prompted broadcasters to film the arrival of guests as they stepped out of their limousines outside the venue. The red carpet is now a globally recognised focal point for celebrities to make a grand entrance and showcase themselves as well as their favourite designers.
The essence of the Hollywood red carpet, after all, is showmanship, and the red carpet appearances that have gone down in history tend to be the unique moments of bold, confident, flamboyant, provocative and individualistic display, and often a form of escapism.
The Beverly Hilton hosted celebrities dressed to the nines for the Golden Globes Awards this year, celebrating with a mix of traditional glamour and fresh, innovative silhouettes. The more feminine looks were finished with vibrant colours, sequins or embellishments. Gucci made a big statement on the red carpet with Michelle Williams' frothy white gown with mounds of ruffles, as did Julia Garner's pink gown with a flouncy hem. Anya Taylor-Joy's bright yellow Dior ensemble, which included a satiny bra top and a long floor-length skirt, felt both modern and timeless, while Black Panther: Wakanda Forever star Letitia Wright's watercolour-inspired gown by Prada with Bulgari jewels was colourful and romantic. Michelle Yeoh, who won Best Actress in a Motion Picture, also looked stunning in Armani's sequined peplum gown.
The best actor frontrunners provided the style highlights at the Critics' Choice Movie Awards. Once again, Yeoh looked stunning in a black and pink Carolina Herrera ensemble with a pink ruffled shawl that grazed the floor behind her. Elle Fanning leaned into a 19th-century silhouette with an Alexander McQueen calico tulle gown complete with a fanned-out skirt. Williams this time went for a more refined look in a Louis Vuitton column gown with a golden disco-ball finish.
The award season may be all about movies and music, but an incredible amount of attention is paid to fashion, with newspapers, magazines and social media becoming obsessed with who wore what for days and weeks on end.
Without a doubt, fashion is important in history because it sets the tone for how people present themselves in every era. Everyone lives through fashion, it is regarded as a powerful tool for people to define themselves, and the red carpet is considered the starting point for all fashion brand stories.