Cate Blanchett is building a private gallery at her English country home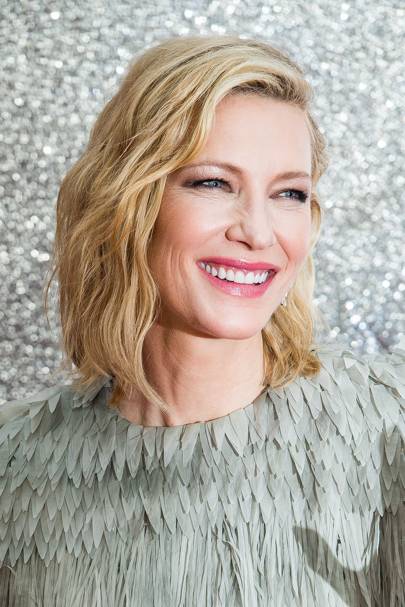 What to do when your art collection gets so big you no longer have room to display it in your home? Why, build a private gallery of course. Such is the solution found by Cate Blanchett, who has secured permission to create a dedicated art building at her English East Sussex estate.
Despite being best known as one of the most respected actresses of her generation (she's won no less than two Oscars, three BAFTA Awards and three Golden Globes), Blanchett is something of an art world cognoscenti. The Times reports that she has a degree in fine art and an eye for contemporary works; and was once described by Tony Preston, a Melbourne auctioneer, as a 'sophisticated and informed' collector.
Blanchett moved to Britain from her native Australia in 2016, when she and her husband, Australian playwright Andrew Upton, purchased Highwell House near Crowborough in East Sussex, listed for £3.75 million. The couple, who have four children together, sold their last remaining Sydney home last year. Formerly owned by Australian comedian Barry Humphries, the property was put on the market for £6.8 million.
Built in 1890, Highwell House has had a string of illustrious inhabitants, such as Sherlock Holmes author Sir Arthur Conan Doyle and Doctor Who actor Tom Baker. With 13 acres of gardens, the seven-bedroom mansion had been unoccupied since the early 2000s, used as a squat and reduced to a state of disrepair and dilapidation. Pentagram symbols were reportedly drawn on the floor, leading to rumours of haunting, with the property garnering the accolade of Britain's 13th creepiest abandoned house in 2015. Safe to say it underwent a significant overhaul when it was bought and refurbished by Blanchett and Upton.
Now the English country home looks set to become an artistic sanctuary for the film star, as she's been given the go ahead for the new gallery building. The Times adds that it will replace a currently dilapidated oast house and cottage in the grounds of the house and was endorsed by Rotherfield parish council, who said the project would 'enhance the facilities' of the estate. Situated in the grounds of the Victorian mansion, the space will reportedly also house a rehearsal studio and meditation room (the 51-year-old is said to practise 'mindful meditation').
Permission has been granted despite initial concerns that the project could pose a threat to a colony of protected bats. DNA analysis of droppings discovered by ecologists found that the site was home to common pipistrelle and brown long-eared bats; species that are under threat partly due to a lack of roosting space, as it's rare for new buildings to have sufficient roosting areas. Wealden district council has granted planning permission, however, on the grounds that a 'bat mitigation strategy' is implemented, with details of a European protected species licence shown prior to the destruction of the original cottage.
Planning documents are quoted as stating the proposed office, studio and gallery makes up 'a new synthesis that seeks to add a new layer of cultural heritage significance to the site' and that the 'building will be ancillary to the principal dwelling and will be used as a place to enjoy quiet and proximity to nature.' They went on: 'The applicants are creative people and it is beneficial for them to have a place to work and relax that is tranquil and inspires through the beauty of the art, architecture and landscape setting.' In an effort to remain in keeping with its surroundings, the new structure has been designed to appear like a 'thickened wall', situated at the edge of a kitchen garden. In what sounds like an idyllic set up, the garden is used to source organic eggs, fruit and vegetables and even has a pig, who 'contributes to the processing of food waste'.
Blanchett's favourite painters include the Chinese-Australian contemporary artist Guan Wei (she is the proud owner of his 20-panel work, Target) and her collection also houses pieces by Paula Rego, Howard Hodgkin, Rosalie Gascoigne, Bill Hammond, Bill Robinson, Polly Borland, Zhang Huan and Tim Maguire. Indeed Blanchett has contributed to the creation of contemporary art herself; in 2015, she lent her talents to German artist Julian Rosefeldt by appearing in his series of 13 video installation screens, in which she assumed different characters to read parts of manifestos from over 60 20th-century artists. She also played an art curator in the 2014 war drama, The Monuments Men.
Here's hoping that the bats and ghosts at Highwell are as keen on art as Blanchett herself.
Subscribe now to get 3 issues of Tatler for just £1, plus free home delivery and free instant access to the digital editions
More from Tatler