A crowning achievement: Fairy tale prevails over reality in 'The Crown'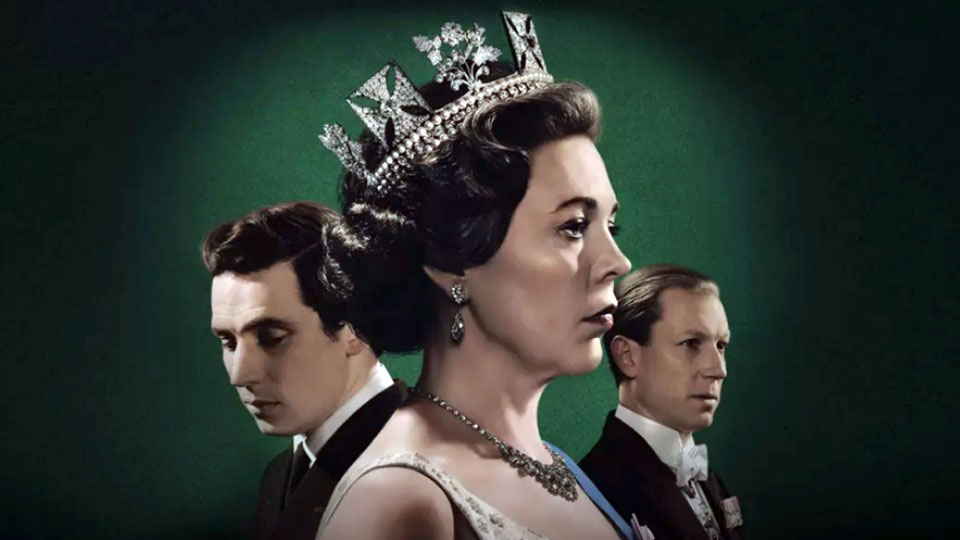 Olivia Colman, center, as Queen Elizabeth II, flanked by Josh O'Connor as Prince Charles, left, and Tobias Menzies as Philip, Duke of Edinburgh, right. | Netflix
I write this as the annual Academy Awards ceremony approaches; Hollywood's landmark Cinerama Dome, with its iconic concave screen, closes; and Prince Philip has made his last journey from Windsor Castle to St. George's Chapel for one final pageant, His Royal Highness's funeral. The confluence of these events has moved this film/TV historian to meditate on the audio-visual medium of moving images, the evolution of the art of storytelling from Telemachus to television, Sophocles to cinema to streaming.
The Duke of Edinburgh was actually something of an innovator in terms of screen productions. It was Prince Philip's brainstorm to televise the 1953 coronation of his wife, which took millions around the world inside of Westminster Abbey to observe the crowning of Elizabeth II, for what was then the largest viewership of any live event out there in TV-land.
In 1956, HRH embarked on a royal tour of the Commonwealth countries and Antarctica. Queen Elizabeth's going-away gift to Philip was reportedly a motion picture camera (just as Her Majesty's father, King George VI—who had himself owned a Cine-Kodak Magazine 16 Camera—had similarly given her a movie camera as one of the couple's 2,500-plus wedding presents). It's intriguing to imagine what the home movies shot by those regal lenses yielded. On that, see the Queen's Home Movie Collection.
In an effort to humanize the British aristocrats' image, Prince Philip initiated the making of the documentary Royal Family, which aired on the BBC in 1969—and was later banned by Her Majesty. And but of course, the D of E's April 17 funeral procession and ceremony at the 11th century-built Windsor Castle was very 21st century, yet another made-for-TV spectacle broadcast live around the world.
Most of the above is dramatized in Netflix's remarkable, award-winning The Crown, which Scottish Green Party member and journalist Adam Ramsay calls "a less propagandized version of their history than the British press presents." Since 2016, the streaming series has delved beneath the public persona which the royal consort and various media handlers have concocted and projected to their subjects in Royal Family and other endlessly mass manufactured misinformation.
In The Crown's final episode to date, during a tête-a-tête with Prince Charles (Golden Globe winner Josh O'Connor), his mistress, Camilla Parker Bowles (Emerald Fennell), presciently points out: "In the narrative laws of fairy tales versus reality, the fairy tale always prevails." (Indeed, despite the fact that she eventually wed Charles and became the Duchess of Cornwall, Camilla didn't make the final cut as one of the 30 select few mourners allowed to attend Philip's COVID-restricted funeral inside of St. George's Chapel.) But in the four seasons of The Crown, it seems that a version of unvarnished (if sometimes embellished) truth triumphs over the Mother Goose-ified rendition of reality that previously received the official stamp of approval from—and put the ham into—Buckingham Palace.
I recently binge watched the first 40 episodes of The Crown that have been released so far (Season 5 is set to be streamed by Netflix in 2022). Each of the almost hour-long chapters is stylish in the best British screen tradition, with high production values worthy of David Lean (who directed epics such as Lawrence of Arabia), and stunning location shooting from various British castles to South Africa to Hungary, etc. The Olivier-caliber acting is impeccable, with many Golden Globe, Emmy, and BAFTA wins and nominations for individual thesps, plus two Screen Actors Guild awards for Outstanding Performance by an Ensemble in a Drama Series. The program's creator, two-time Oscar nominee Peter Morgan, has also received multiple noms and won a Writers Guild of America award for penning The Crown, with superb screenwriting that does the Bard of Stratford-upon-Avon proud.
While every episode ranges from well-done to stellar, it is The Crown's overwhelming cumulative effect that is so noteworthy. Never before in big or little screen history has an actual family been so exhaustively dramatized in the English language—especially given that so many members of that family are still living. (Soap operas, telenovelas, sitcoms, police procedurals, movie serials, and so on don't count, because they depict fictitious characters.) The engrossing series has the ring of truth and seems to take us behind the scenes to reveal the mere mortals who inhabit Windsor Castle, Balmoral, Buckingham Palace, and our imaginations. Morgan, who specializes in historical dramas such as 2006's The Queen and 2008's Frost/Nixon, imbues the storylines with a fly-on-the-wall, ever insightful authenticity.
In doing so, the real life dramatis personae are personified and humanized beyond their rarefied, even deified, celebrity status. A series' leitmotif is how the institution of the monarchy clashes with the individual aspirations of certain members of the royal family. In particular, the aristocracy's archaic rules repeatedly require royals to suppress their individual desires for love.
A recurring character is the Duke of Windsor (Alex Jennings and in later years Derek Jacobi), who as King Edward VIII abdicated the throne in 1936 in order to wed Wallis Simpson (portrayed by Lia Williams and as she aged, Geraldine Chaplin). Elizabeth's younger sister Margaret's (played first by Vanessa Kirby, then in middle age by Helena Bonham Carter) yearning to wed her true love is repeatedly thwarted, turning the frustrated Princess into an embittered chain-smoking alcoholic.
Similarly, Prince Charles's wish to marry the woman he loves, Camilla, inevitably leads to anguish and heartache when the heir to the throne is manipulated into marrying Princess Diana (Emma Corrin), with rather infamous, tragic consequences. Torn apart by the loveless union, in one Season 4 scene, Charles seeks solace from his younger sister and confidante, Princess Anne (Erin Doherty), only to meet with yet another rebuke. What, the Crown Prince rages, does he have to do to get a bit of kindness from his family?
Although the royals seem to epitomize purse, power, and privilege, these bluebloods are often powerless before arcane, ancient rules of reign that constrain them. When it comes to mating, bloodlines and social stature preempt "minor" considerations, such as romantic love. Although the United Kingdom today is a constitutional monarchy, this obsession with DNA can be traced to antiquity's outdated, elitist notions of divine right with monarchy, and the dangerous notion of genetic superiority.
Even the sovereign herself is not exempt from the strictures enforced by the entrenched civil service courtiers who are diehard keepers of the flame of an age-old tradition they believe keeps their kingdom united (and them employed). An intriguing character is Queen Elizabeth's (played by Claire Foy and later on by Olivia Colman) private secretary, Tommy Lascelles (Pip Torrens). When he's not reenacting historic battle royales with toy soldiers, Tommy (tellingly, this is also a slang term for British Army soldiers) repeatedly and rather strangely overrules Her Majesty in choice of personnel and other matters of state. In America these bureaucrats embedded in the government apparatus are derided as the so-called "deep state," but in the UK these palace apparatchiks are a sort of "creep state."
Morgan is such a deft scrivener that he always manages to vividly and sympathetically render his rich and famous characters. When Prince Philip (convincingly depicted by Matt Smith and Tobias Menzies and in the upcoming 2022 episodes by Jonathan Pryce) died, I was saddened—although, of course, this plebeian never met him or any member of his family, nor am I even distantly related to any of these patricians. But after observing him in about 40 episodes I did have a false sense of knowing Philip, or at least a feeling of familiarity.
So I made it a point to watch BBC news reports and PBS documentaries broadcast after the Duke's death about the Royal Consort. It was striking to compare and contrast the actuality with Morgan's scripted drama. Where does fact end and fiction begin? Interestingly, only once in the hours of reportage I viewed recounting Prince Philip's long life was mental illness vis-à-vis the royal family discussed—and only mentioned in passing, at that. By this, I don't just mean Princess Diana's bulimia (covered in Season 4) and other psychological tolls exacted by the demands of living in a fishbowl, having to follow strict protocols, and so on.
Morgan movingly and extremely sensitively deals with the subject of mental illness in at least two classic Crown episodes. In Bubbiekins, after decades of long separation, Philip comes face-to-face with his mother—Princess Alice (Jane Lapotaire), great-granddaughter of Queen Victoria, born in Windsor Castle—who had been diagnosed with paranoid schizophrenia and institutionalized in a Swiss sanitarium. The mother-son rapprochement after years apart is exceedingly poignantly portrayed.
In the episode entitled The Hereditary Principle, a depressed Princess Margaret seeks out therapy, which leads to her startling discovery (one of those shocking "recovered memories" unearthed by psychoanalysis?) that "two cousins whom she and her older sister, the Queen (Olivia Colman), previously believed were dead were actually alive and living in an institution in Surrey. Katherine and Nerissa Bowes-Lyon, the daughters of the queen mother's older brother and first cousins of the royal sisters, had been committed for decades because of a developmental disorder," as The Hollywood Reporter noted. Since 1941, the sisters' institutionalization in an asylum had been covered up for years because admission of their illness might suggest the royal bloodline was tainted, which could have weakened the image-conscious monarchy during the WWII era and then as Britain transitioned during the postwar period from an Empire the sun never set upon to a Commonwealth of decolonized nations.
Like Princess Alice, Katherine and Nerissa have been ignored in the deluge of reportage following 99-year-old Philip's demise. Nevertheless, discord among the U.K.'s highest-ranking clan persists, as clearly evinced by Prince Harry and pregnant Princess Meghan's televised Q&A/confessional with Oprah Winfrey, and the fallout from her allegations that "the firm" refused to assist the Duchess of Sussex with her own mental health issues and that a member of the royal family had questioned what color her and Harry's baby would be.
When TV broadcaster Piers Morgan appeared on Fox's Tucker Carlson's programs, he decried being a victim of "cancel culture," following his termination after six years co-hosting ITV's Good Morning Program due to an on-the-air row wherein Morgan declared he "didn't believe a word" Meghan Markle said. It apparently hasn't occurred to Morgan that he may have been sacked for snow-flaking out on live television and rudely walking off the set of the program in front of, presumably, millions of viewers. Morgan also didn't tell Carlson that at the time he ranted and raved on live TV about Meghan's allegations that he had actually done any firsthand reporting about them or consulted any psychoanalysts. Flattering himself as a free speech crusader, Morgan tweeted, "Freedom of speech is a hill I'm happy to die on"—although, it seems, not a hill Ms. Markle is likewise entitled to live on.
It is ironic that storyteller Peter Morgan is far more accurate in a dramatized format than Piers Morgan and so many other "newsmen" and documentarians have been in revealing the flaws and foibles of the high and mighty. To be sure, the fact-based Crown inevitably has its concocted plot devices and the like, but this film/TV historian suspects they are not only enlisted in order to advance the narrative and tell a whopper of a tale but also deployed in the service of a heightened realism. It is often said that "truth is stranger than fiction," but in The Crown, it is a fictionalized dramatization that seems more accurate than most documentary and news coverage.
Hollywood helmer John Ford probably did more than any moviemaker in conjuring the myth of America's Old West. In Ford's 1962 Western The Man Who Shot Liberty Valance, a reporter interviewing Jimmy Stewart, who has become a distinguished politician, declares: "When the legend becomes fact, print the legend." Peter Morgan has, rather stunningly, combined fact and legend to create a Shakespearean morality play for the ages.
In doing so, as noted, The Crown creates an all-too-human picture stretching for about a century of one single family, and this series is a singular, crowning achievement in the history of moving images. Arguably no other production, for film, television, or the internet, documentary or fiction, has so fully demonstrated the sweeping power of moving images in this medium's history. As such, this series is the screen's crown jewel.
Inevitably, The Crown evokes empathy from viewers for some of the true-life people being depicted, and as noted, for a moment I felt that the death of Philip, a total stranger to me, was like the loss of a member of my own family. But having said that, I'm more of a Jacobin than a monarchist, and watching The Crown, episode after infuriating episode only strengthened my conviction that inherited wealth, privilege, and status is inherently evil, and that the British monarchy needs to be immediately abolished. And a beheading here and there might be in order, too.