A Conversation with Academy Award-winning Screenwriter Jin-won Han
Nov. 19, 2020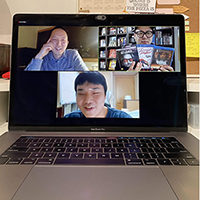 On Nov. 17, the School of Communication Film, Television and Video Production program
welcomed scriptwriting writer Jin-won Han, of the winning 92nd Academy Award Best
Picture film "Parasite."

June Kyu (Q) Park, assistant professor, Film, Television and Video Production and
the School of Communications welcomed Han for an intimate virtual conversation. Han
participated from his home in Seoul, Korea, with assistance from Jason Yu, an interpreter.
This engaging exchange reached an audience of over 100 Webster students, faculty and
staff and created a social media buzz that reached over 1,000 people nationally and
globally. 
For his work on "Parasite,"Han received much critical appraisal and recognition, including
an Academy Award for Best Original Screenplay. Han shared this award with Bong Joon-ho, and this made the two of them the first
Asian writers to win any screenwriting Academy Award. 
Throughout the conversation Jin-won Han was eager to share stories of his life, research,
passion for writing and filmmaking, and future in the industry.  In his final words
of the evening, he encouraged future screenwriters and filmmakers to "Just sit down
and write!" and "Always believe in your decision, then put in the work!"
This event is one of many successful virtual events the School of Communications has
been able to offer during the pandemic to continue student engagement and enrichment. 

For more information on upcoming events, visit the School of Communication Hub website.
tags: 
school of communications,
webster life,
webster today,
film,
video production,
students,
faculty,